This best chicken tenders recipe provides a low-carb version of the well-known chicken tenders. These air fryer chicken strips with no breading are crispy on the outside, tender on the inside, and will bring joy to your family.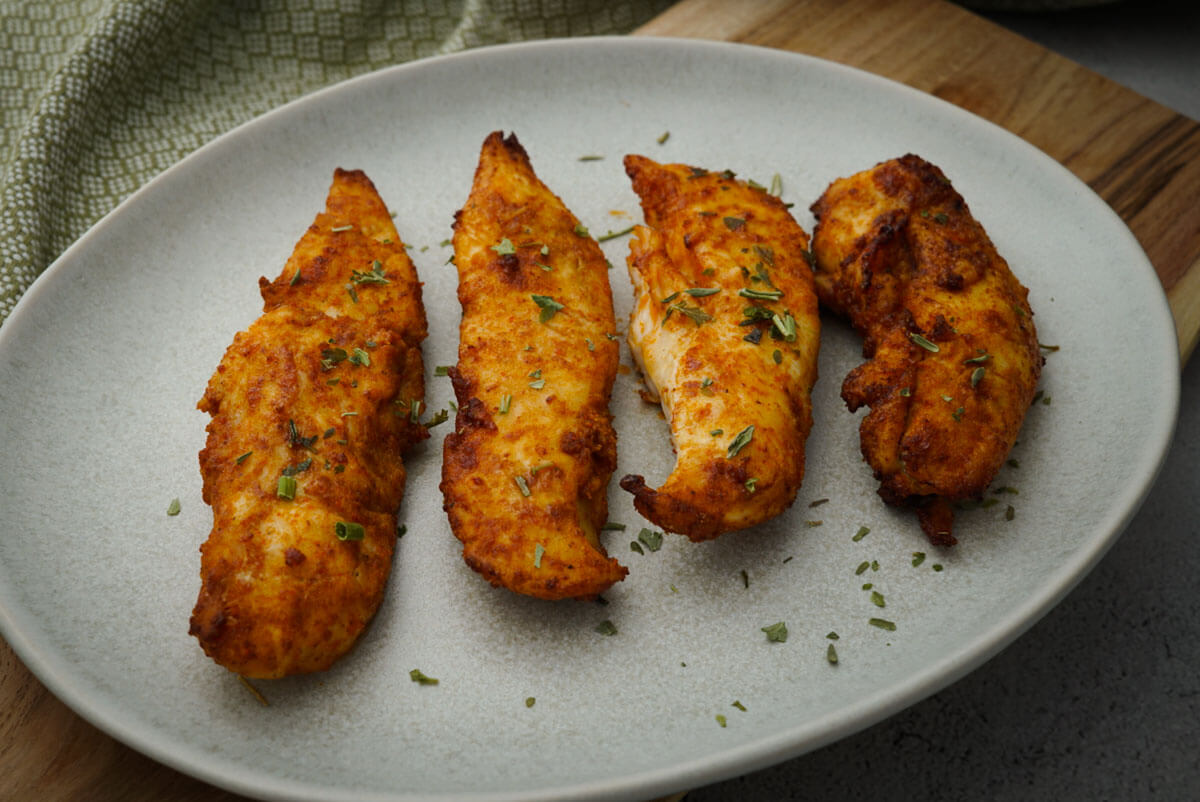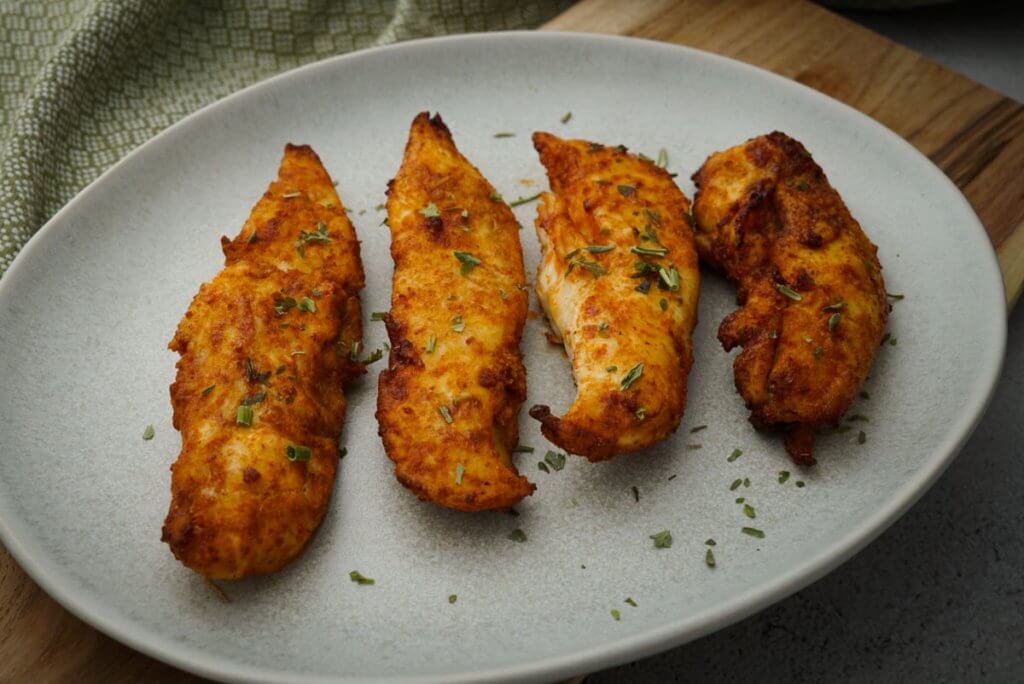 Why you will love this recipe
Homemade chicken tenders are low-carb and gluten free because we don't use a breadcrumb mixture
Air fryer chicken tenders are much healthier than traditional fried chicken tenders
Quick and Easy weeknight dinner for your family with a cooking time of just 12 minutes
Paleo and Keto friendly recipe
Recipe Ingredients
You will need the following ingredients to make these air fryer chicken tenders with no breading:
Chicken tenders: chicken tenders are meat prepared from the pectoralis minor muscles of chickens. These strips of white meat are located on either side of the chicken breast
Seasoning: for this recipe we will use smoked paprika powder, cayenne pepper, garlic powder, salt and cumin seed powder
Olive oil
How to make air fryer chicken strips : step by step
Preheat the air fryer for 5 minutes at 375°F (190°C).
Make sure that the chicken strips are dry; if they aren't, pat the chicken tenders dry with a paper towel.
Place the raw chicken tenders in a medium-sized bowl and add the olive oil and seasoning. Mix everything with a spoon until all the chicken strips are covered with the oil and seasoning mix. Spray the air fryer basket lightly with olive oil spray and transfer the chicken pieces to the air fryer basket.
Air fry the chicken tenders at 375°F (190°C) for 10 minutes, flipping halfway through to ensure both sides get cooked evenly. Your chicken strips without breading should be ready and golden brown after 10 minutes, but you can always double-check with a meat thermometer.
The internal temperature of chicken needs to be 165°F (65°C) to be considered completely cooked. At this internal temperature, you don't run a risk for salmonella anymore.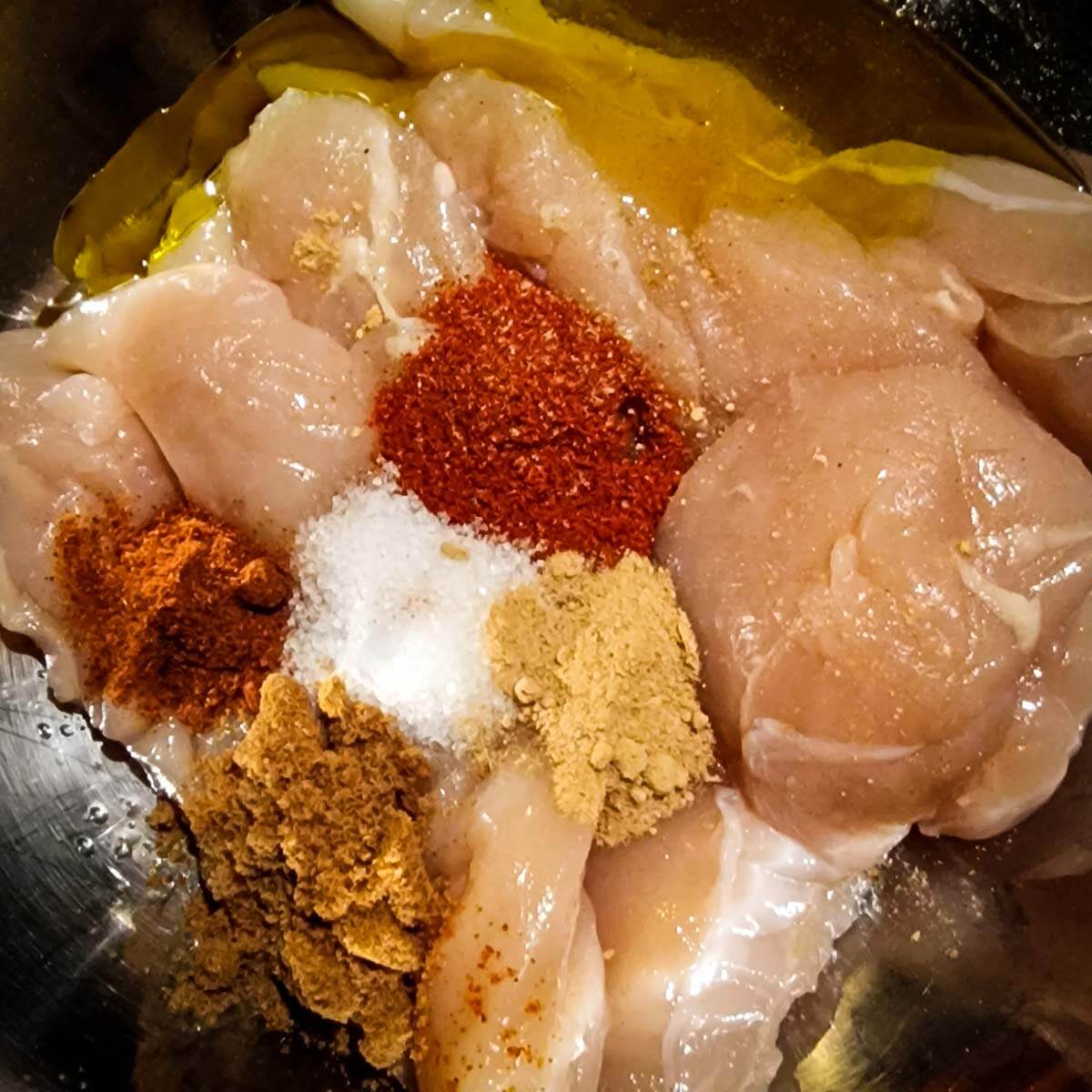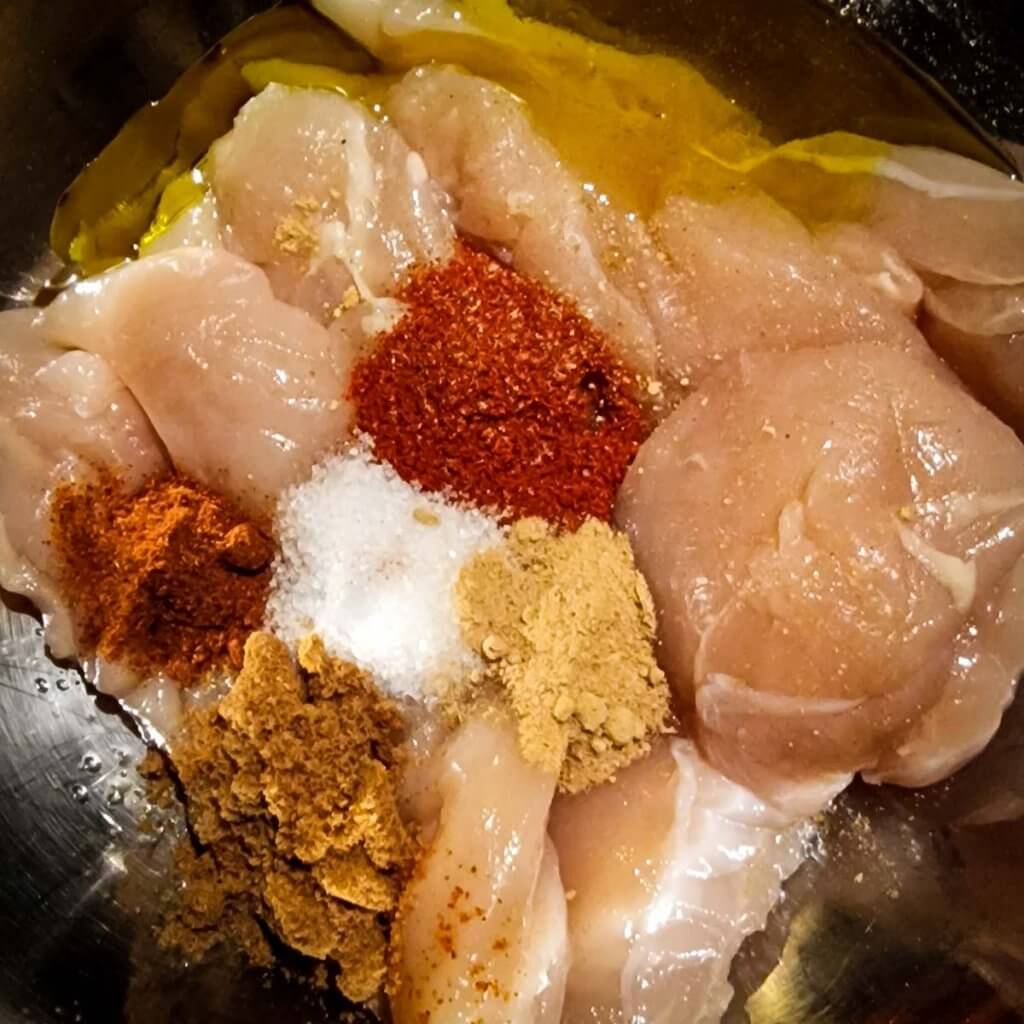 Recipe Tips & Tricks
Flip the chicken strips over halfway through to ensure both sides get equally crispy
Make sure that the chicken meat is dry before you apply the oil and seasoning. This will lead to a crispier result.
Place the chicken strips in the air fryer basket in a single layer to ensure they can properly cook
Serve these air fried chicken tenders with your favorite dipping sauce! Some examples of sauces you could serve this with are bbq sauce, honey mustard sauce or buffalo sauce.
Preheat the air fryer to get a crispier end result
Spray the air fryer basket with cooking spray to prevent your chicken strips to get stick to the air fryer basket
Storage, Reheating and Freezing
Storage: store your leftover chicken tenders in an airtight container in the fridge for up to 3 days.
Reheating: reheat the cooked chicken tenders in the air fryer at 360°F (180°C) for 3 to 5 minutes
Freezing: You can freeze your remaining chicken tenders. Frozen chicken can last anywhere between 9 to 12 months, but I would recommend to consume your air fried chicken tenders again within the first 3 to 4 months.
Additions & Substitutions
Seasoning: you can add herbs like oregano and/or basil to the seasoning mix. You could even add some chili powder to make the chicken tenders more spicy. They also are delicious with some italian seasoning.
Cayenne pepper: adjust the amount of cayenne pepper depending on how spicy you want the end result to be.
Air fryer chicken tenderloins: replace these by cutting boneless skinless chicken breast into pieces.
Sprinkle some lemon juice over the finished chicken strips to add a fresh taste
Frequently Asked Questions
Can I use chicken breasts instead of chicken tenderloins?
Yes, but I would recommend to cut the chicken breast in smaller pieces. Otherwise you will need to cook for longer.
Can I cook frozen chicken tenders in the air fryer?
Yes, this is possible. Cooking time and temperature stays the same as for this recipe.
Can I cook raw chicken in the air fryer?
Absolutely! For this recipe you need to use raw chicken.
Can I make them in a regular oven?
Making chicken tenders in a regular oven is a relatively simple process. Preheat the oven to 375 degrees F (190°C). Prepare a baking sheet with cooking spray or parchment paper. Place the chicken tenders on the baking sheet. Bake for 25 minutes, turning once halfway through the cooking time. Oven times may vary, so keep an eye on your chicken tenders to make sure they don't overcook. Once golden brown, remove from the oven and serve hot with your favorite dipping sauce. Enjoy!
Other air fryer CHICKEN recipes that you will love
Serve these chicken strips with: