There are plenty of different sauces that you could eat with lobster ravioli. This ravioli sauce is a creamy sauce with minced garlic for lobster ravioli to which you can either add pre-cooked lobster, or pre-cooked crayfish as an alternative.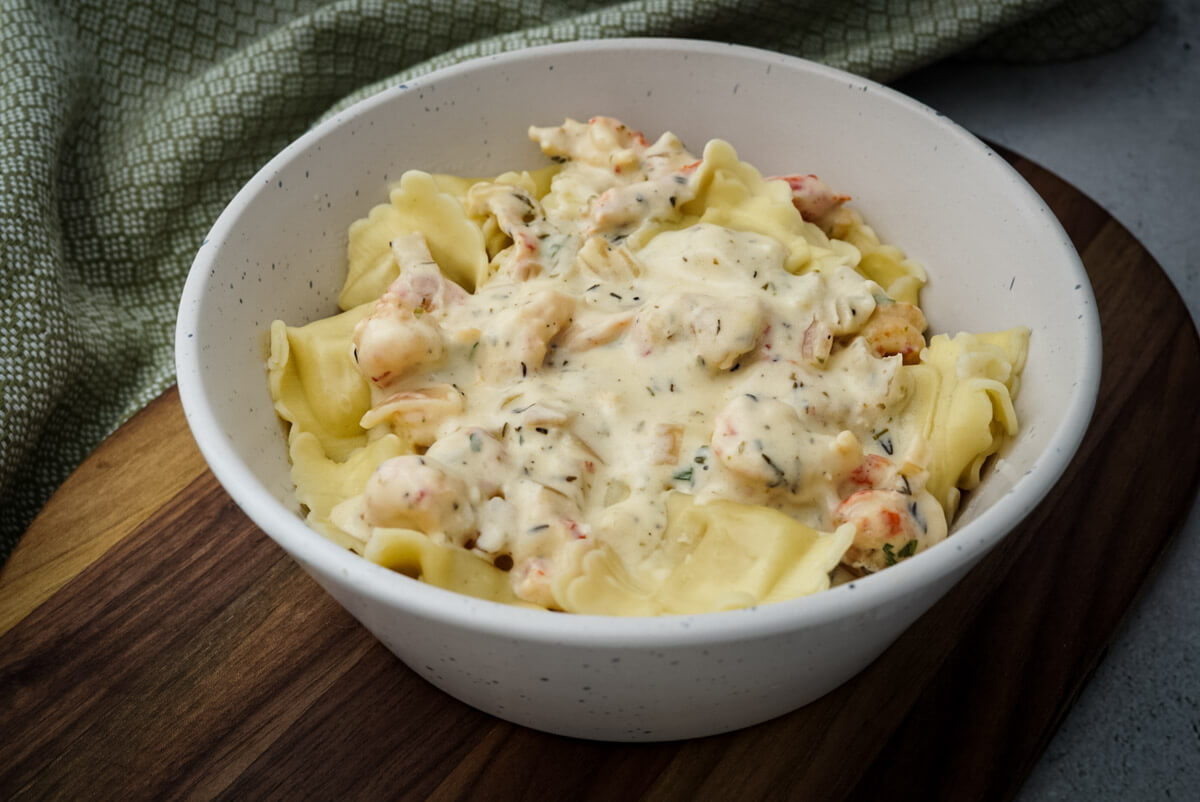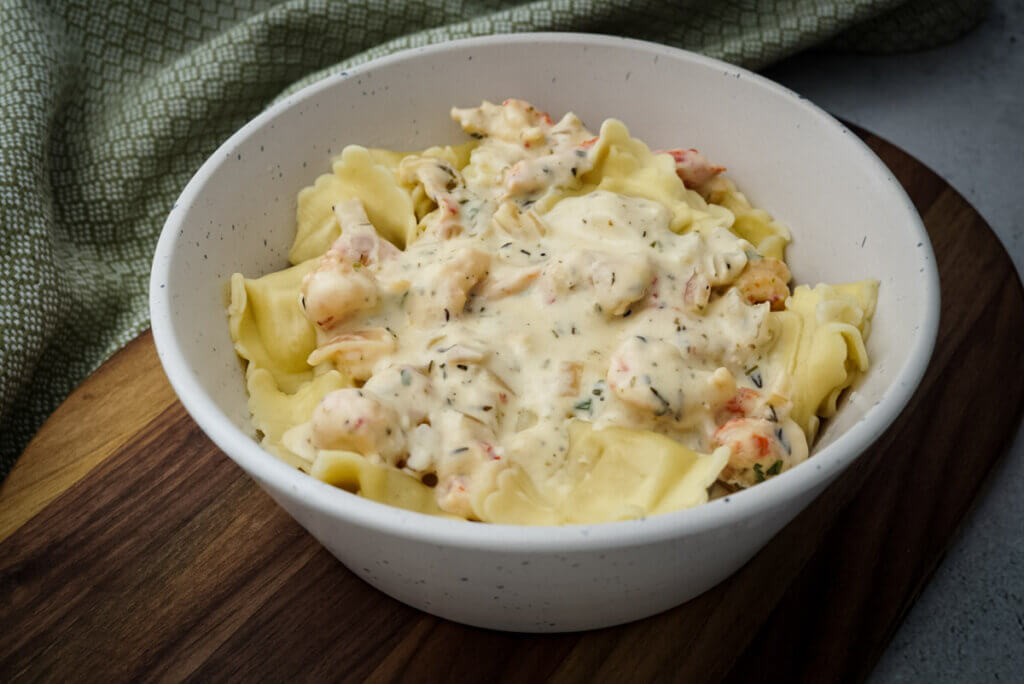 This sauce for lobster ravioli is a delicious easy ravioli sauce recipe! It's very easy to make, even for a beginner, and this recipe will definitely impress your loved one on a date night.
You only need to make this sauce as you can buy lobster ravioli pre-made at the supermarket. A good alternative would be any cheese-filled ravioli.
The sauce itself requires very little work. You only need to cut the onion, but for the rest, it's just a matter of adding the right ingredients at the right time. So don't be afraid to try this recipe if you are not an experienced chef! This sauce looks much more difficult than it actually is.
If you don't have any ravioli available, you can also serve this sauce with spaghetti or tagliatelli. The sauce contains enough flavor; it doesn't necessarily need the extra flavor from your ravioli filling.
Why you will love this best lobster ravioli sauce recipe
Impress your loved ones with this easy sauce for lobster ravioli
Delicious creamy sauce
No hassle of removing lobster shells, we are not going to prepare lobster from scratch
Perfect for Valentine's day!
Lobster ravioli is a nice alternative to normal ravioli
Recipe Ingredients
You will need the following ingredients to make this best lobster ravioli sauce:
Butter: will add more richness and flavor to your sauce. If you prefer not to use butter, then you can use olive oil instead.
Red onion: use a red onion or a sjalot for this recipe. This type of onion is sweeter than yellow onions.
Dried thyme and dried rosemary. Or use fresh one if you have this available.
Heavy cream: the main ingredient for this creamy, rich sauce
Dry white wine: you will taste the flavor of the wine you choose in this recipe, so pick one that you like
Sea salt or kosher salt
Black pepper
Pre-cooked and pre-chopped lobster meat or crayfish meat
Pre-made lobster ravioli or homemade lobster ravioli if you feel up to the challenge
Lemon, juiced
Garlic cloves
Ingredient Notes
Onion: make sure that you cook your onion long enough until it is turning brown. This will release a lot of flavor and will make the onion much sweeter
How to make this best lobster ravioli cream sauce: step by step
Make the sauce
Cut the onion into small pieces and sauté the diced onion in the butter in a large sauté pan over medium heat until the onion starts turning brown (will take about three to five minutes). Add minced garlic and sauté for one more minute.
Stir in the wine and add the rosemary and thyme. Let the sauce cook for two minutes and regularly stir gently.
Add the juiced lemon, add the heavy cream and cook for another ten minutes until the sauce gets a creamier texture, regularly stir gently. During this time, you should start cooking the ravioli. Double-check on the package how long the lobster ravioli needs to cook. I will explain in below chapter how you have to cook the ravioli.
Add the lobster meat or crayfish meat to the sauce and let it cook for five more minutes. Stir regularly to prevent the sauce from getting burned. Add salt and black pepper to taste. Your cream sauce is now ready to serve with the cooked ravioli.
Cook the ravioli
Check the packaging of your lobster ravioli to check how long you need to cook it; it will probably be somewhere around 6 minutes. First, bring your water to a boil and add some kosher salt. You can also add olive oil to prevent the ravioli from sticking together.
Add the ravioli and let it cook for as long as the instructions say it needs to cook. Once the cooking time is over, place a strainer in your kitchen sink and pour your ravioli into it so that your pasta water drains away.
Plate the ravioli and sauce
Put your ravioli on a plate and scoop enough of the sauce on top of it. You can finish off this delicious lobster ravioli sauce with some fresh parsley or some ground cheese like parmesan.
Wine pairing
Serve a Chardonnay wine with this meal. Chardonnay can be buttery or citrusy, which both goes perfect with this meal as we use both butter and lemon in this recipe.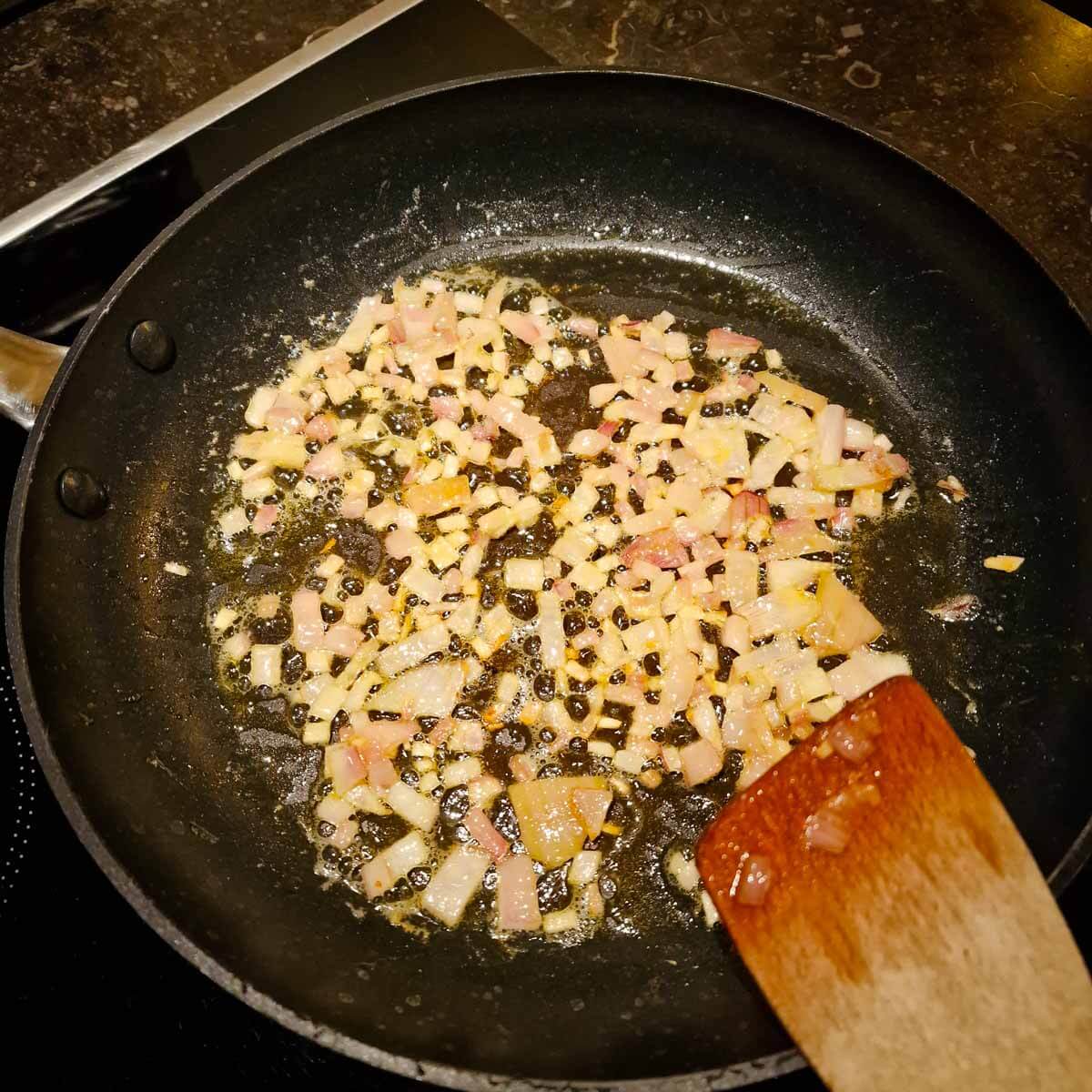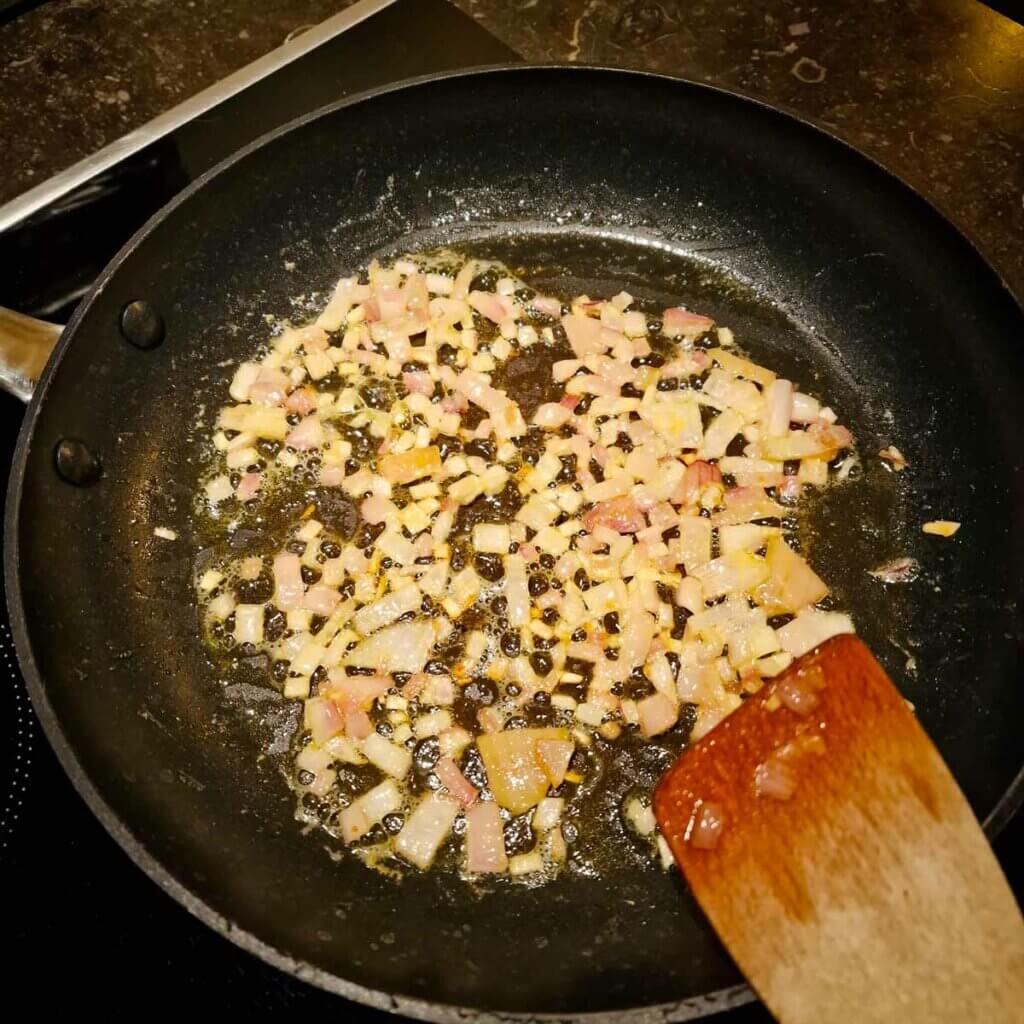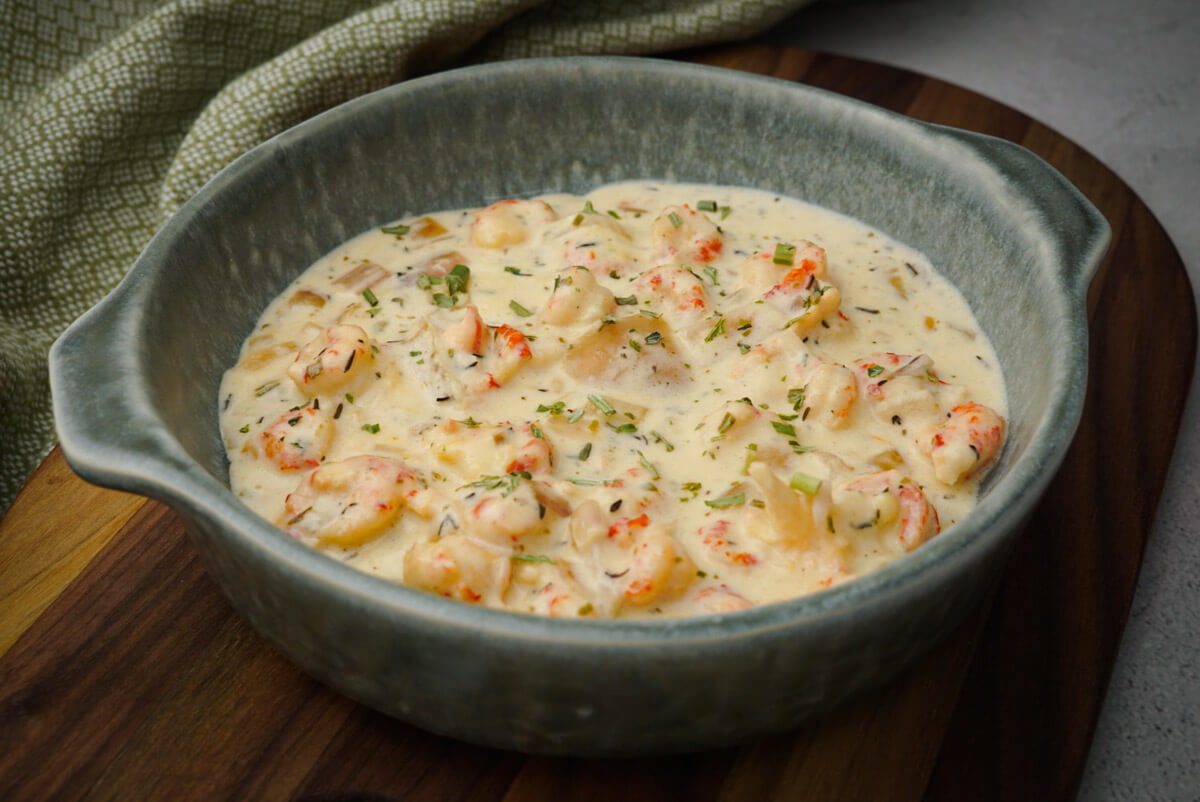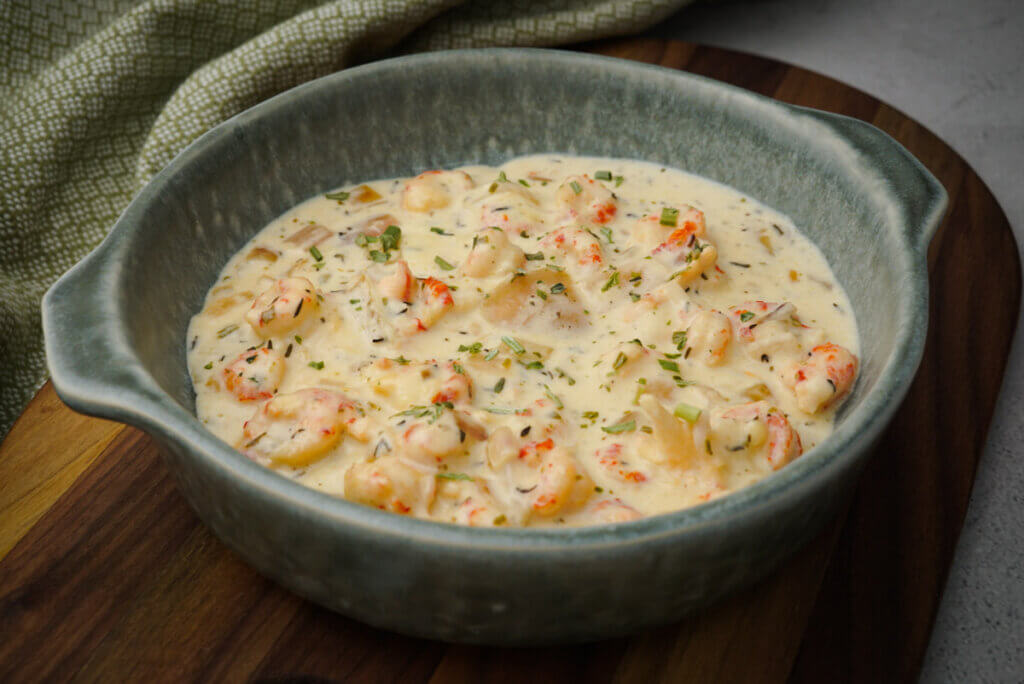 Recipe Tips & Tricks
Sauté the onion long enough to bring out a sweet flavor
Use pre-chopped and pre-cooked lobster or crayfish
Use dry white wine, avoid using sweet white wine
Sprinkle with some grated cheese like parmesan and/or red pepper flakes before serving the sauce
Storage, Reheating and Freezing
Storage
Store in an airtight container in the fridge for up to four days
Reheating
I would strongly recommend to reheat this sauce in a pan on the stove. If you reheat this lobster ravioli sauce in the microwave, do this on a very low setting and regularly stir the sauce with a spoon
Freezing
You can store this sauce in the freezer in an airtight container.
Additions & Substitutions
Lobster: you can use crayfish instead of lobster
Onion: you could also use a sjalot instead of onion
Cheese: sprinkle with some parmesan cheese when you serve this sauce
Tomato paste: Add a teaspoon of tomato paste to give it a sweet tomato sauce hint
Lemon zest: You can also add some lemon zest instead of the juice
Ravioli: you can serve this sauce with other pasta like spaghetti. You can also use a cheese-filled ravioli, mushroom ravioli or butternut squash ravioli
Butter: you can also use olive oil instead
Frequently Asked Questions
What sauce for lobster ravioli?
There is not one specific 'lobster ravioli sauce'. You can serve lobster ravioli with several types of sauces for example a butter sauce.
For this recipe we are going for a creamy lobster ravioli sauce with garlic and lemon.
How long does it take to cook lobster ravioli?
Home-made fresh lobster ravioli only need 2 minutes to cook. Store-bought ravioli will need between 5 and 7 minutes.
What's the best wine to serve with lobster?
Chardonnay has a buttery of citrusy taste which makes it a perfect match for this lobster ravioli sauce.
Where can I buy lobster ravioli?
You can find frozen lobster ravioli at several grocery stores. Costco and Trader Joe's for example both sell lobster ravioli. You can also check a local Italian market.
Other Pasta SAUCE recipes that you will love