This air fryer roasted pumpkin cubes recipe is an easy and delicious way to enjoy the flavors of fall. The pumpkin cubes are lightly seasoned with roasted paprika, then cooked in the air fryer until they are golden and crispy. Serve as a side dish or as part of a fall-inspired meal. Enjoy!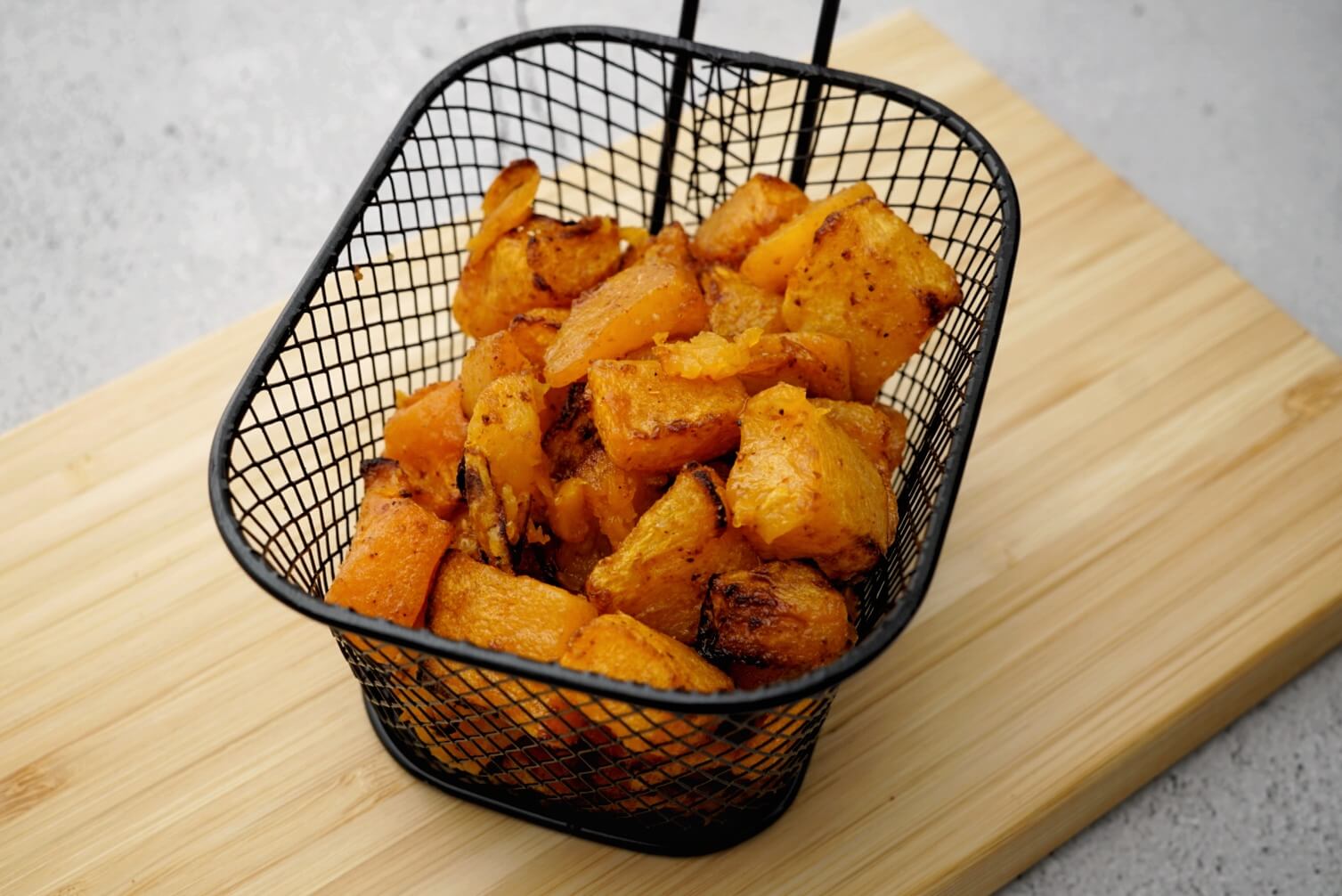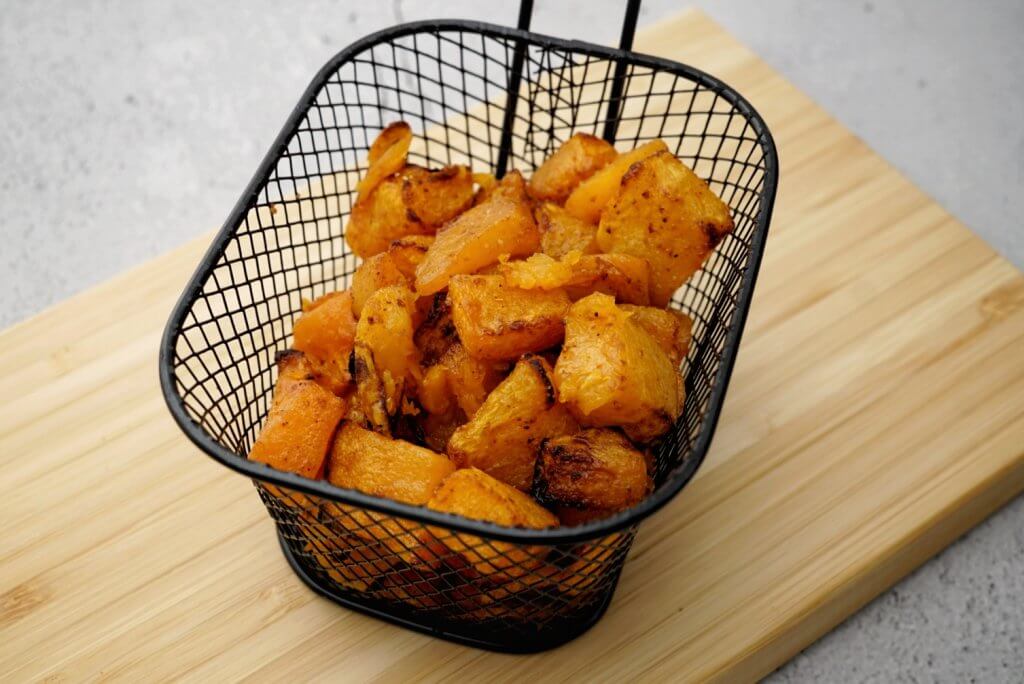 During the fall, I love to eat pumpkins. There are multiple varieties of pumpkins that are good for cooking, such as sugar pumpkins. For this recipe, I prefer using butternut squash.
You should not use field pumpkins for cooking; those are good for carving as decoration. When picking out a pumpkin at the supermarket, remember that smaller pumpkins typically contain more flavor.
Pumpkins are a healthy addition to any meal and are high in nutrients and rich in Vitamin A. This winter squash is also rich in potassium, antioxidants, and beta-carotene. It is low in calories, making it a perfect vegetable for when you are trying to be mindful about what you are eating.
Why you will love this recipe
Super easy
Only 5 ingredients are needed
Pumpkin is very healthy
Can easily be reheated in the microwave again
Cooking time of only 20 minutes
Recipe Ingredients
You will need the following ingredients to make this air fryer roasted pumpkin, the exact measurements are provided in the recipe card:
A pumpkin: I usually use sugar pumpkin or butternut squash
Extra virgin olive oil or any other vegetable oil
Cayenne powder
Smoked paprika powder
Course sea salt
Recipe: step by step
If your supermarket sells pre-cut pumpkin cubes, then you can use those and skip the chapter about how to cut the pumpkin.
How to cut the pumpkin
If you have to cut a pumpkin from scratch, I would recommend first putting it in the microwave for a minute to soften it. This will make it much easier to cut the pumpkin open.
Cut the pumpkin in half and remove the pulp and seeds. Then cut each half in 1-inch thick slices. You can remove the peel from each slice and then further cut the slice in cubes.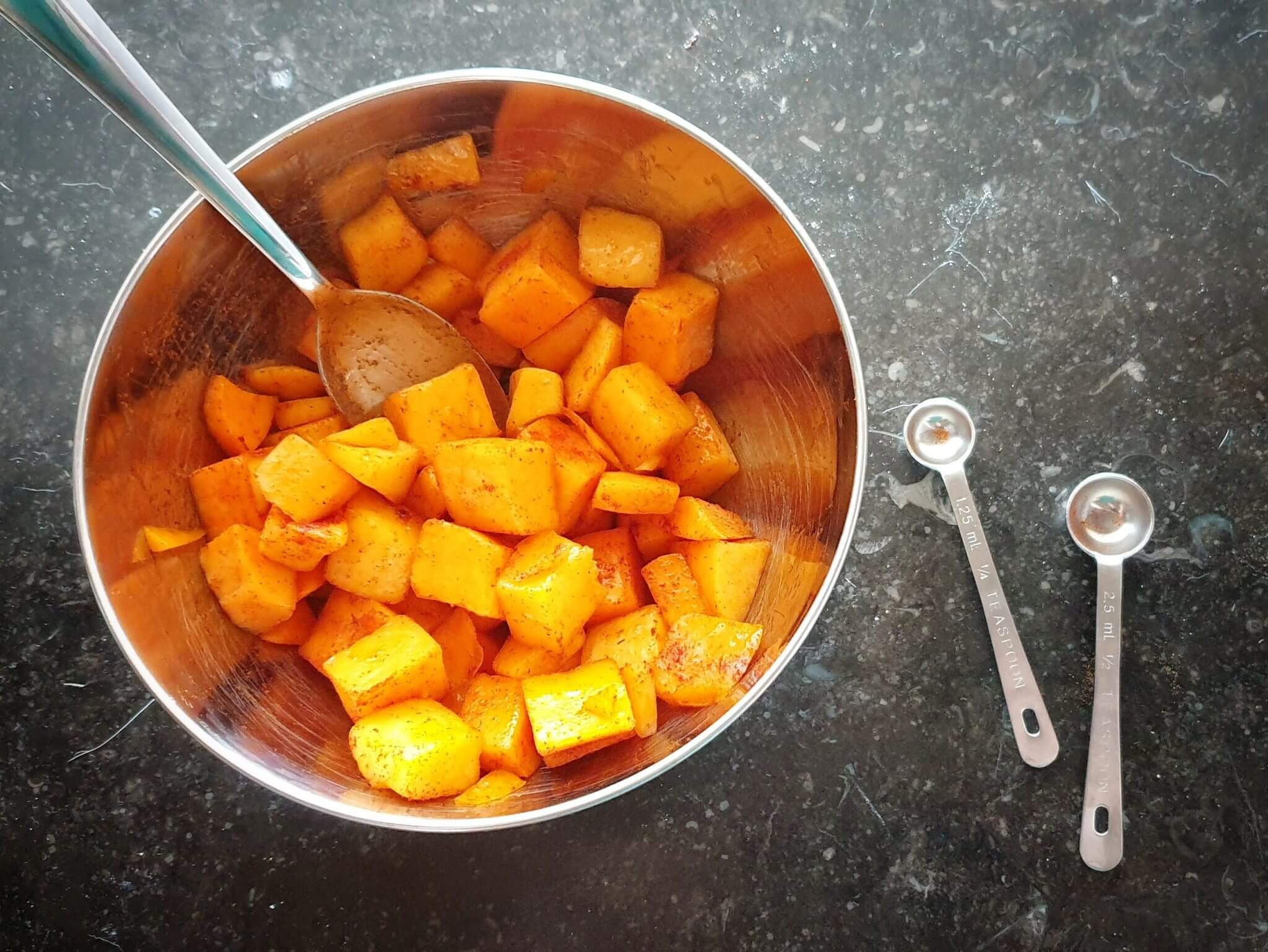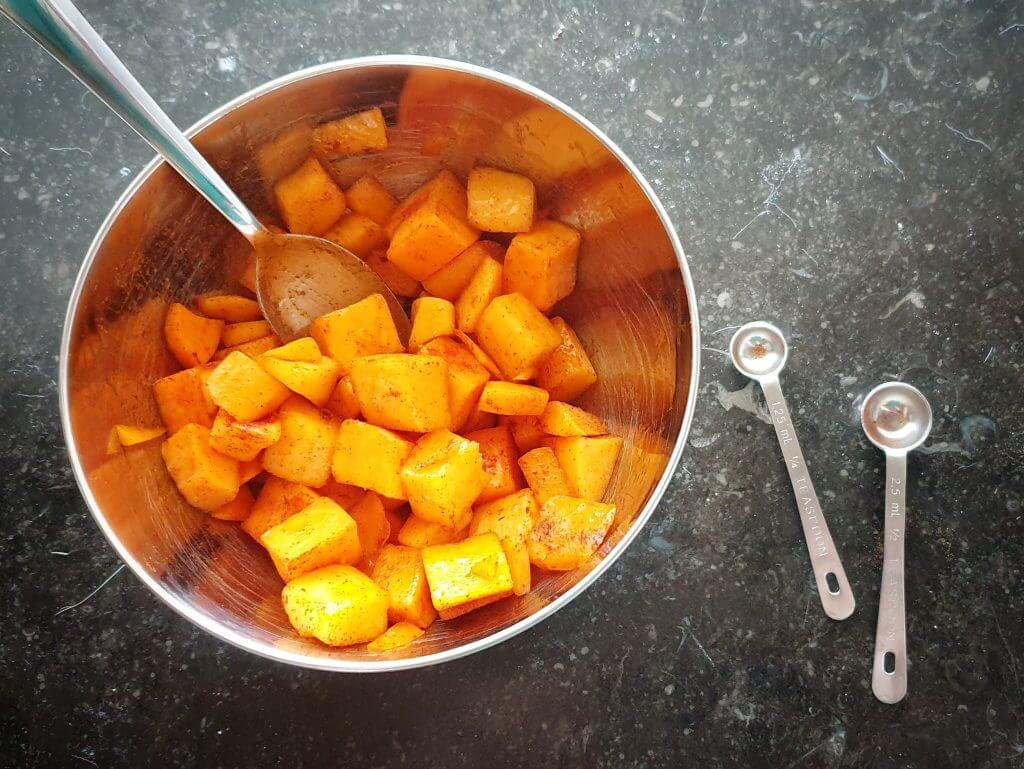 Prepare the pumpkin cubes for the air fryer
Place the pumpkin chunks in a large bowl, add the cayenne powder, sea salt and smoked paprika powder, sprinkle with olive oil, and mix everything to ensure that all cubes are covered in the oil and spices.
Transfer the cubes to your air fryer basket and fry them between 15 to 20 minutes depending on how soft you prefer them to be.
The end result should look like golden brown, caramelized pumpkin cubes.
Recipe Tips & Tricks
Soften the pumpkin in the microwave before cutting it, this will make the cutting much easier. If you have a big pumpkin, it might need up to 2 minutes in the microwave
Smaller pumpkins have more flavor
My cubes weren't all cut the same size, so I had a difference between how cooked the bigger ones and the smaller ones were. I recommend cutting your cubes to equal size as much as possible.
Cut the pumpkin into fries shape instead of cubes to make air fryer pumpkin fries.
You can also cut the pumpkin into pumpkin wedges.
storage, reheating and freezing
Storage
Store leftover pumpkin in the fridge in an airtight container for 3-4 days
Reheating
Reheat them 3 to 4 minutes in the air fryer
Freezing
I would not recommend freezing them
Additions & Substitutions
Seasoning: You can use many seasoning combinations for this recipe, some ideas:
Add garlic powder to the seasoning mix that is used in this recipe
Pumpkin Pie Spices
Ground cinnamon and nutmeg
Olive oil: You can use melted butter instead
Pairs nicely with these air fryer pumpkin cubes
Other Air Fryer recipes that you will love
Other vegetable recipes that you will love
Frequently Asked Questions
Can you air fry pumpkin seeds?
If you have pumpkin seeds left over after using this recipe, you can also air fry the pumpkin seeds to make a crunchy, healthy snack! Clean the pumpkin seeds and dry them well. Mix the seeds with some melted butter, garlic powder, salt and pepper and transfer them to the air fryer basket. Air fry in the air fryer for 15 minutes at 360 °F (180°C) to get deliciously air fryer pumpkin seeds.
Is it better to cook or air fry pumpkin?
For pumpkins, I definitely recommend air frying them. By air frying them, they get the chance to caramelize which results in a sweeter taste.