Roasted garlic butter is a delicious way to add flavor to any meal. It's made by roasting garlic in the oven or air fryer, then blending it with butter to create a creamy, flavorful spread. This spread is great for adding to toast, potatoes, or vegetables, and it can be used as a dip for chips or crackers. Homemade roasted garlic butter is also a great way to add flavor to sauces and dressings. Whether you use it as a spread, dip or cooking ingredient, roasted garlic butter is sure to be a hit with your family and friends.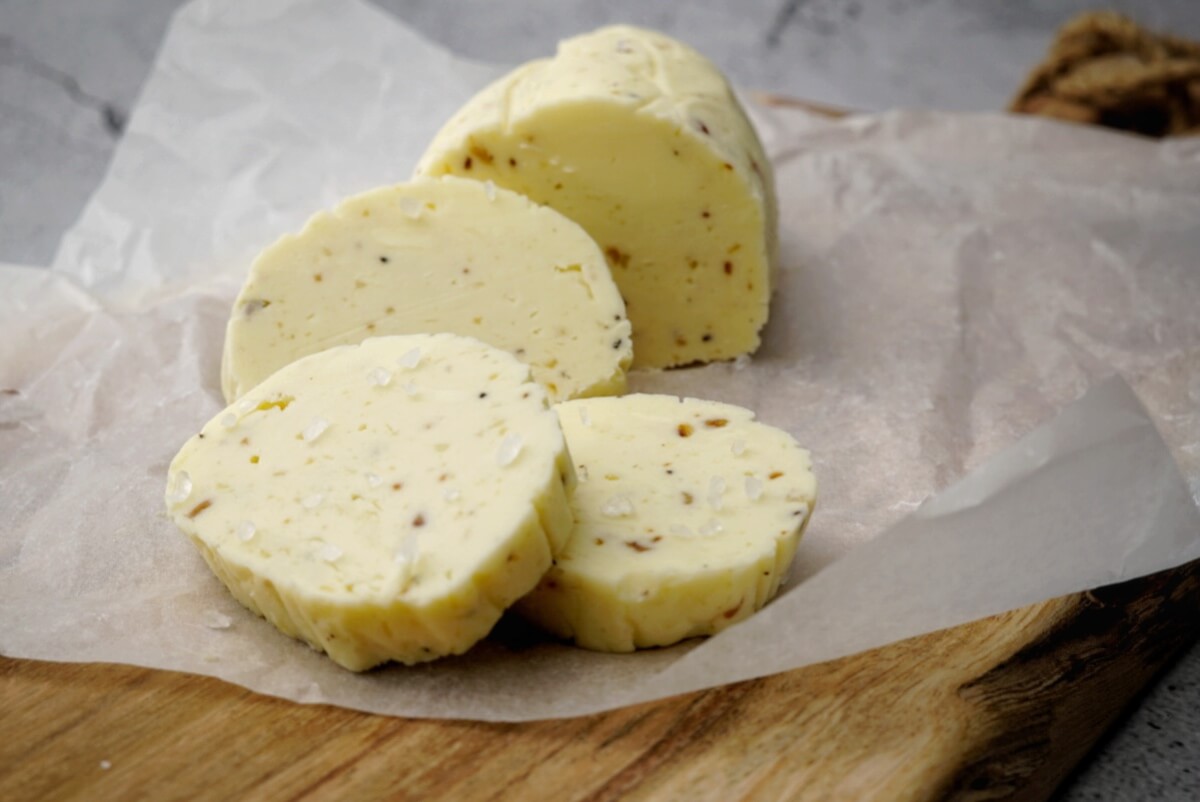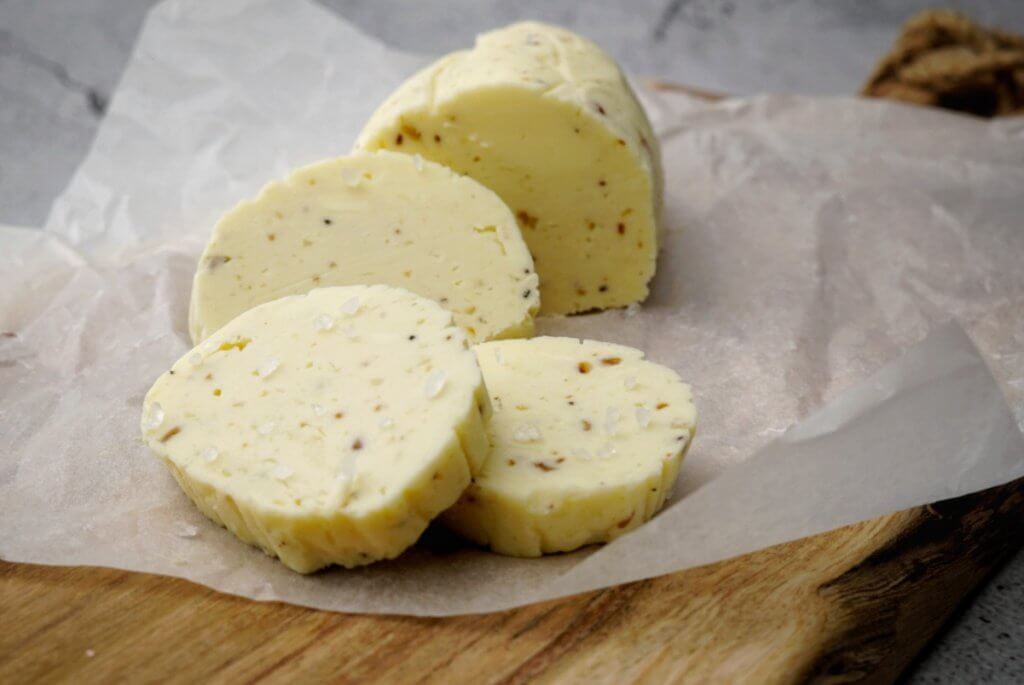 Why you will love this recipe
Roasted garlic butter is the perfect way to add flavor to any dish
The caramelized roasted garlic combined with creamy butter tastes amazing
It has a mild garlic flavor that is not overwhelming
It is also incredibly versatile, and can be used as a spread on toast, mixed into mashed potatoes, or melted over vegetables. Or use it to make your own garlic bread
Recipe Ingredients
You will need the following ingredients to make this roasted garlic butter:
An entire head of garlic
Olive oil
Salt and pepper
Unsalted butter: if you use salted butter, don't add any extra salt anymore
Variations and substitutions
Garlic herb butter: You can add herbs to this roasted garlic butter. Add two teaspoons of herbs like rosemary, thyme, chives, and/or basil. You can use either dried herbs or chopped fresh herbs.
Once you have used this garlic butter on bread, you can top it off with some course sea salt.
How to make roasted garlic butter: step by step
Roasted garlic
Cut the top off the head of the garlic and place it on a piece of aluminum foil. Close the foil up and around the garlic (so that your aluminum foil creates a cup around the garlic) and pour olive oil on top—season with salt and pepper. Close the ends of the foil over the garlic, creating a closed pouch.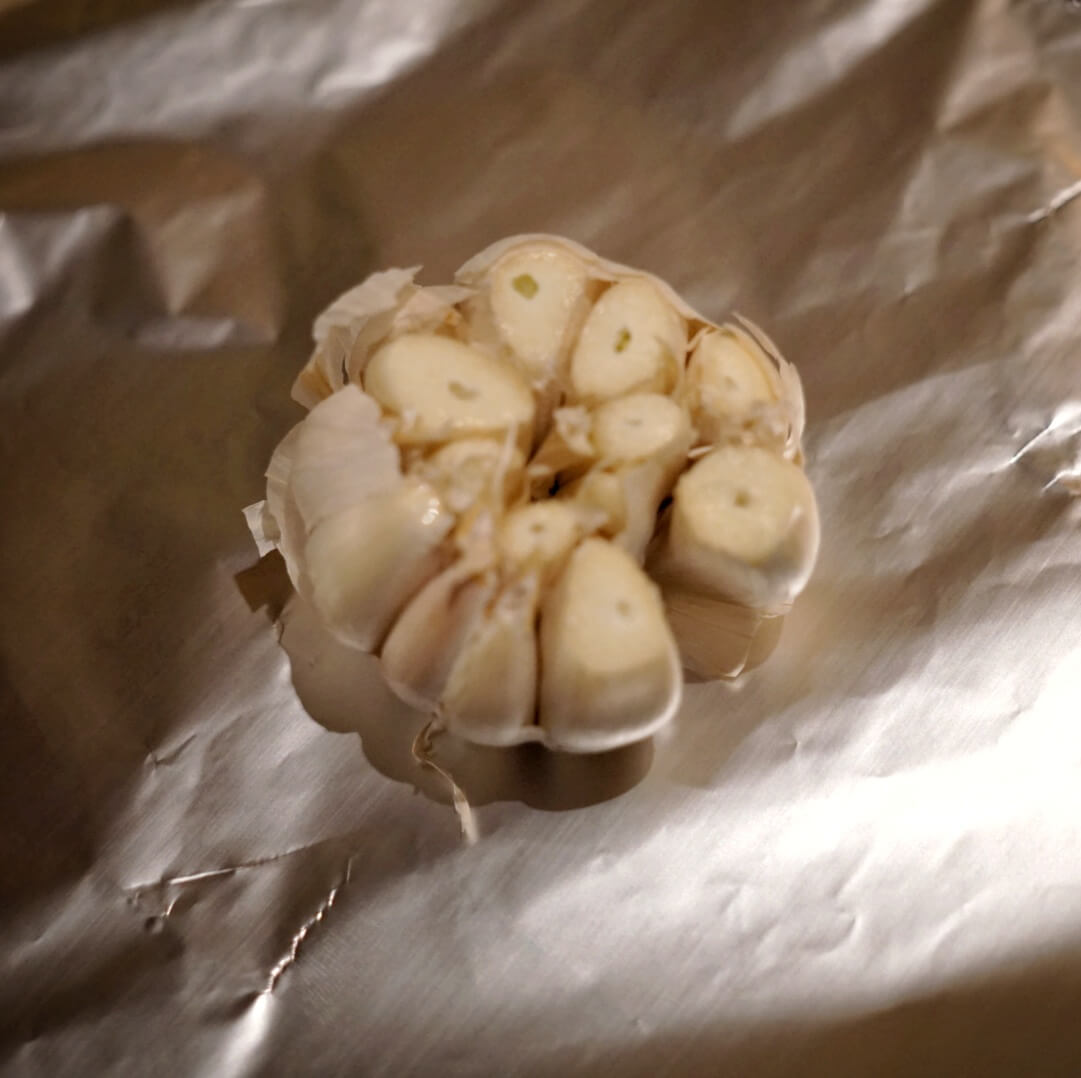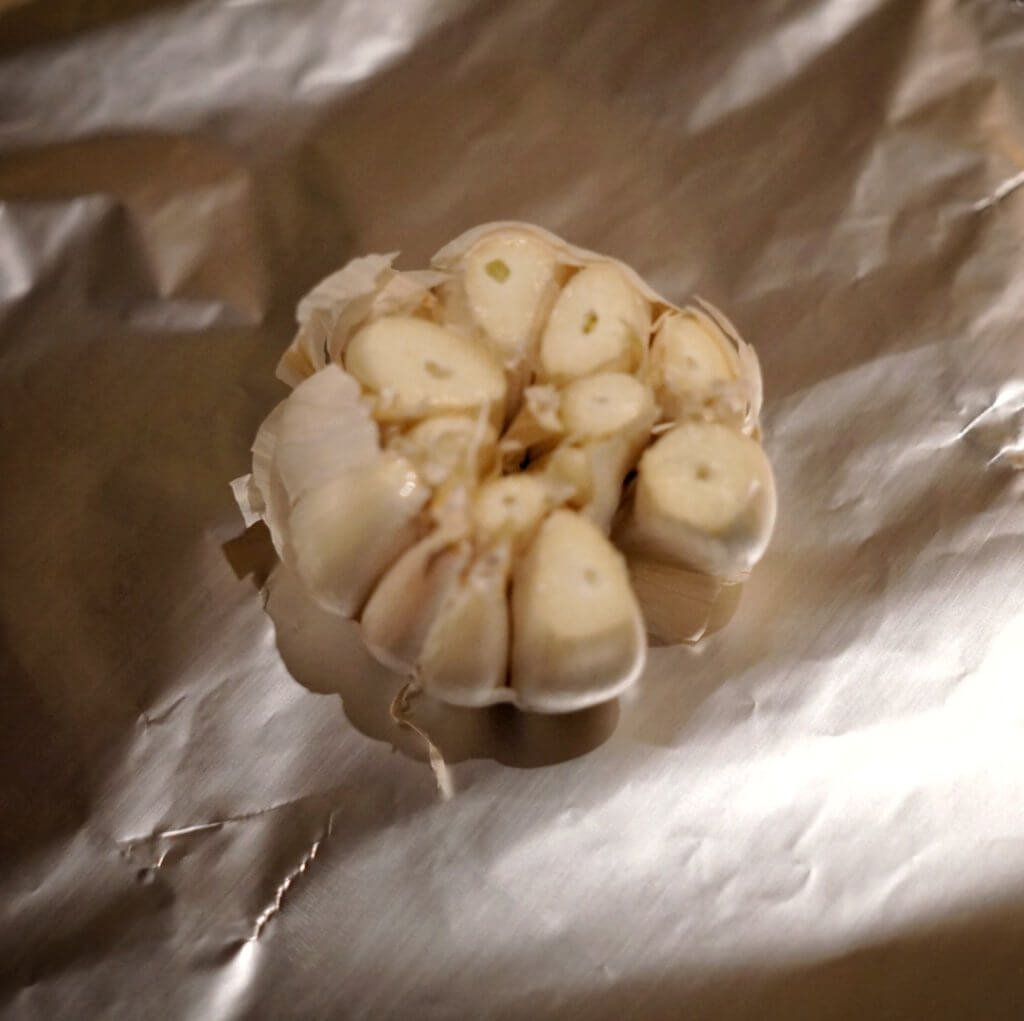 Roast in the air fryer for 20 minutes at 400 °F (200°C). Or in a regular oven for 40 minutes at 400 °F (200°C). If the garlic doesn't appear soft and caramelized yet, roast for another 5 to 10 minutes
Be careful when you open the pouch as hot steam might escape!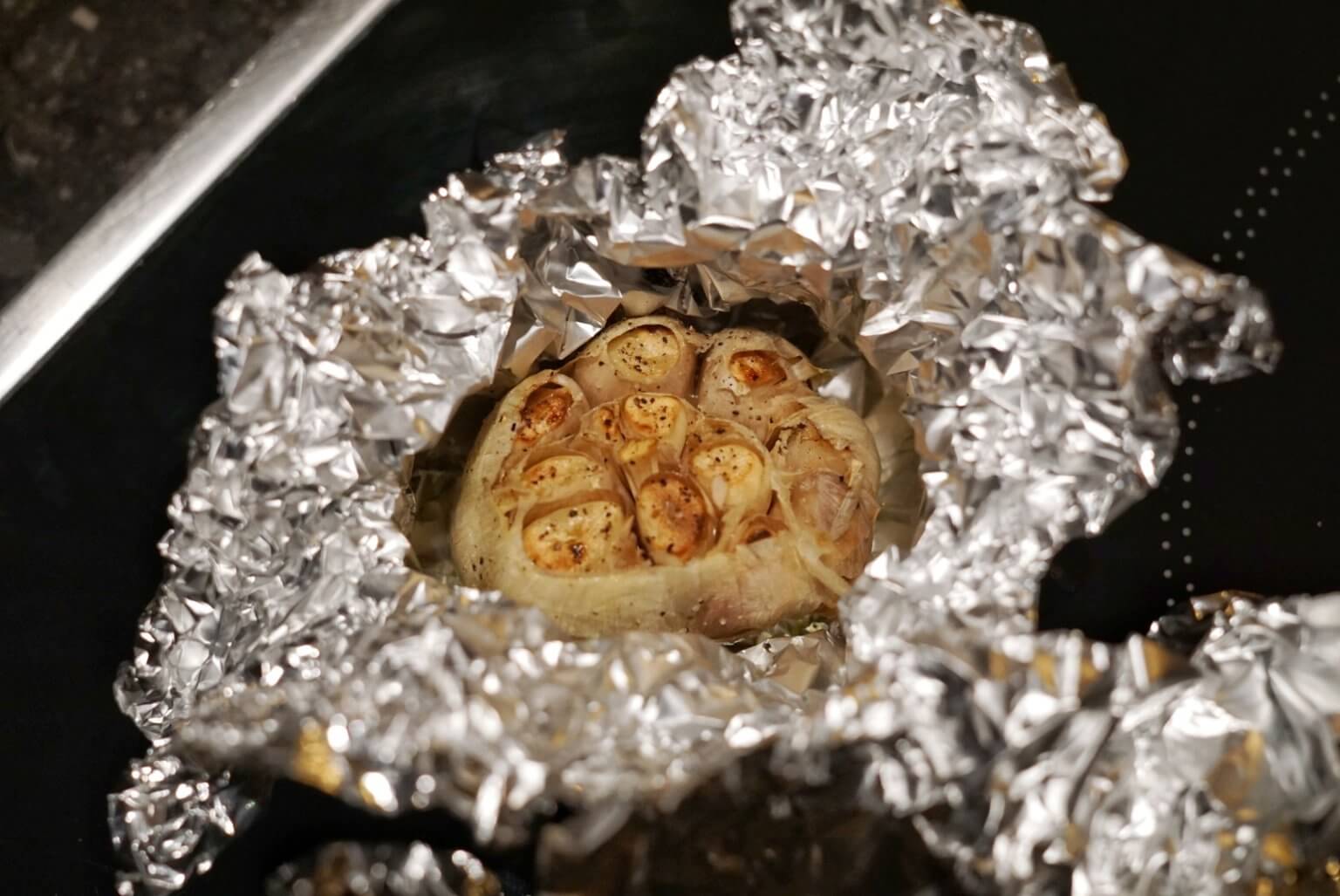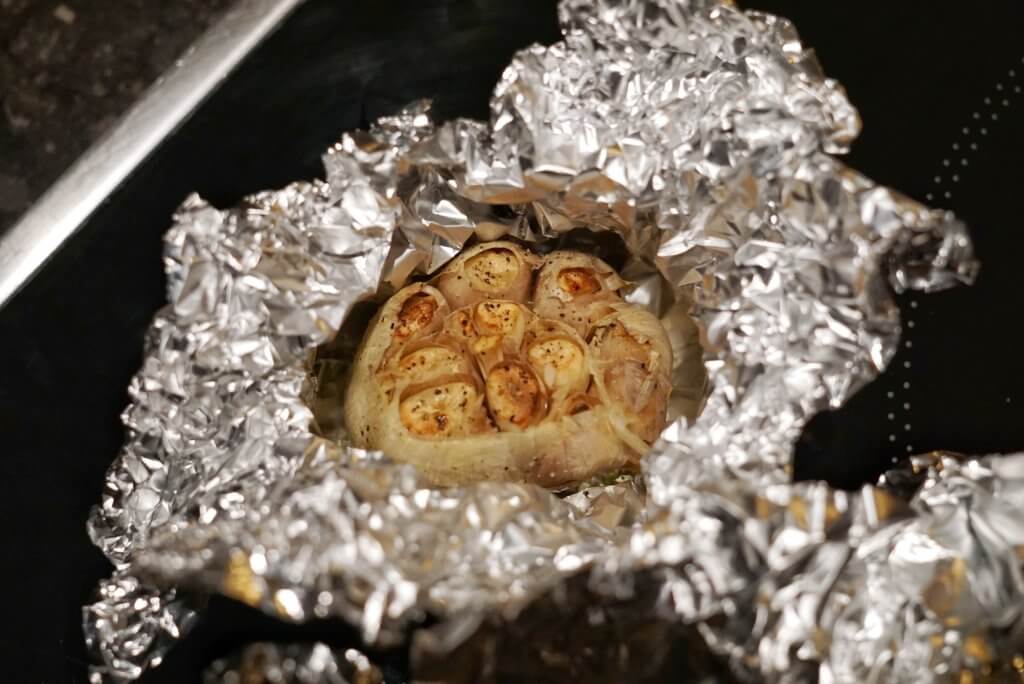 You can now easily spoon or squeeze out the roasted garlic cloves after you've let it cool down for 20 minutes.
Garlic butter
Mash the garlic in a bowl until it forms a puree; add softened butter (room temperature), salt, pepper, and herbs (optionally), and mix well. You can also mix all the ingredients in a food processor.
Store the garlic butter in a bowl in the fridge, roll it in parchment paper or place it on a wrapping foil and wrap it into a log. You can easily cut off slices if you store the butter in the shape of a log.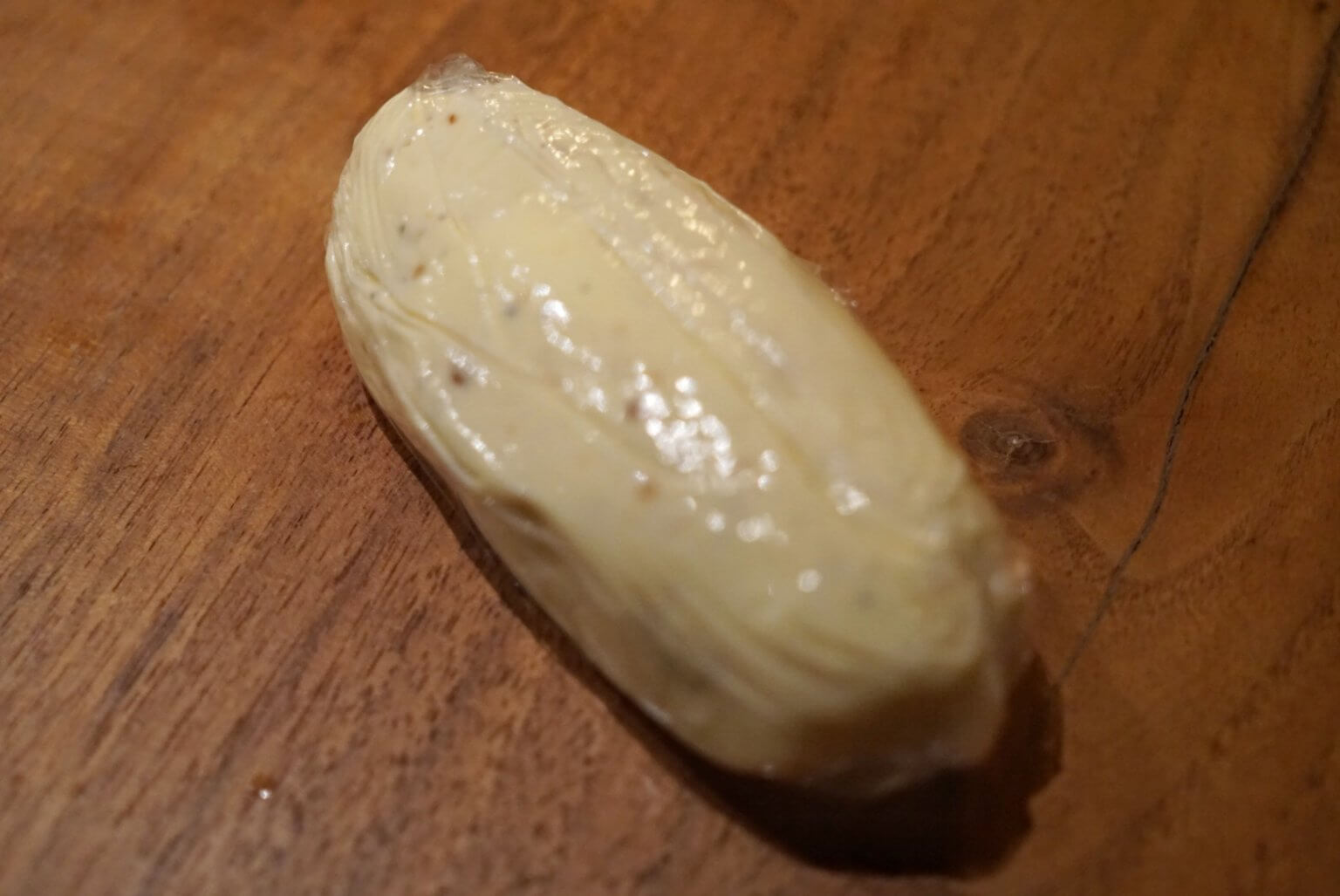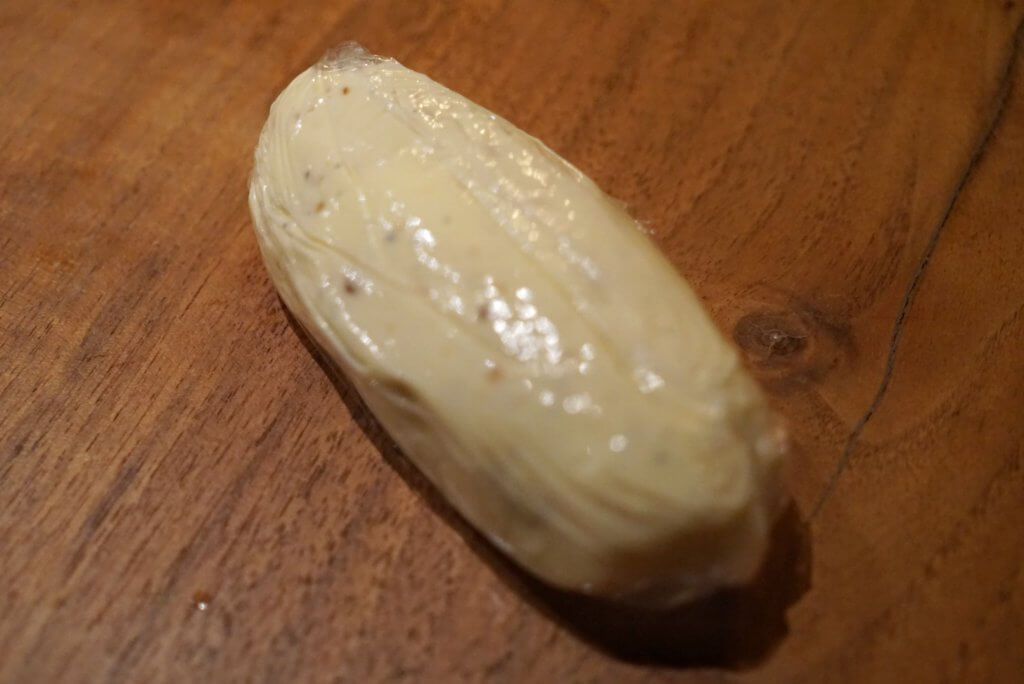 Storage
Storage: store it tightly wrapped or in an airtight container in the fridge, for up to 3 days