Are you looking for a delicious snack that is both quick and easy to make? Look no further than air fryer bacon-wrapped hot dogs! This tasty treat is sure to satisfy everyone's cravings. Not only are they delicious, but they also take minimal time and effort to whip up! Combining the crispy bacon with a juicy hot dog makes for a unique and mouthwatering flavor experience. Plus, you can customize them with your favorite condiments or toppings. So get ready to fire up the air fryer and enjoy this delicious treat in no time!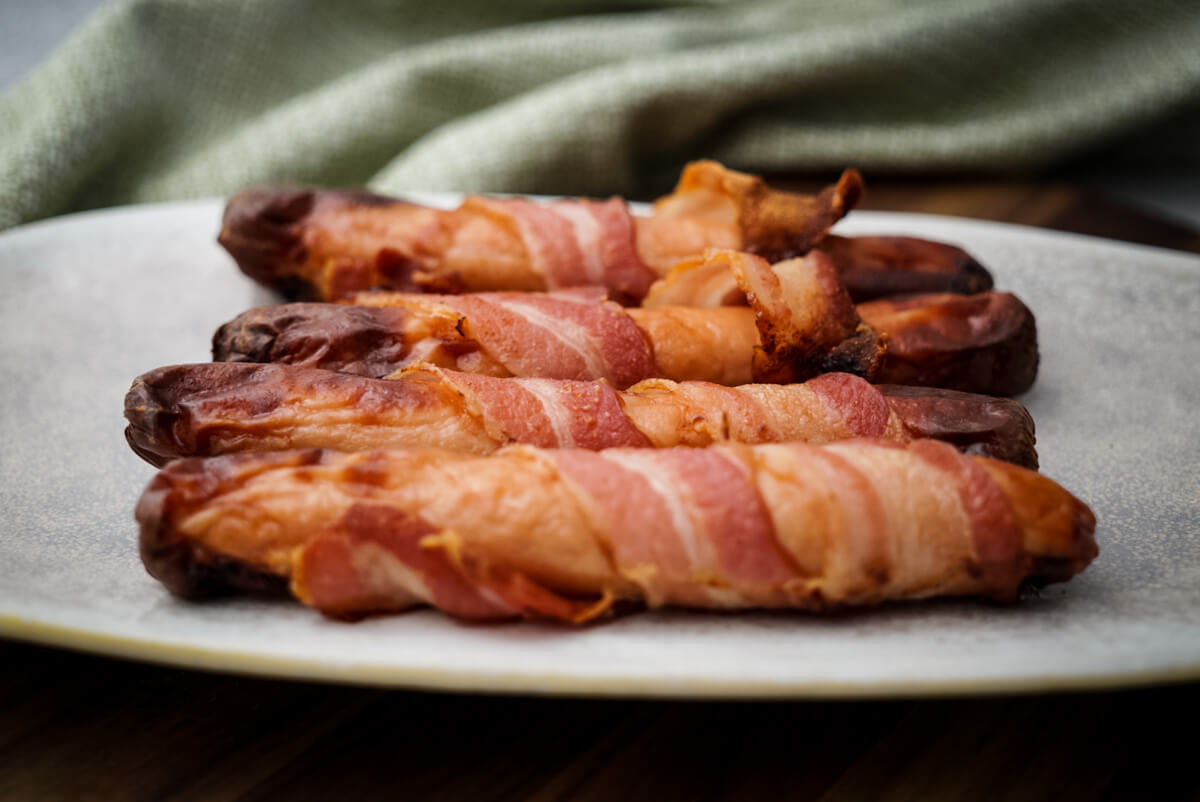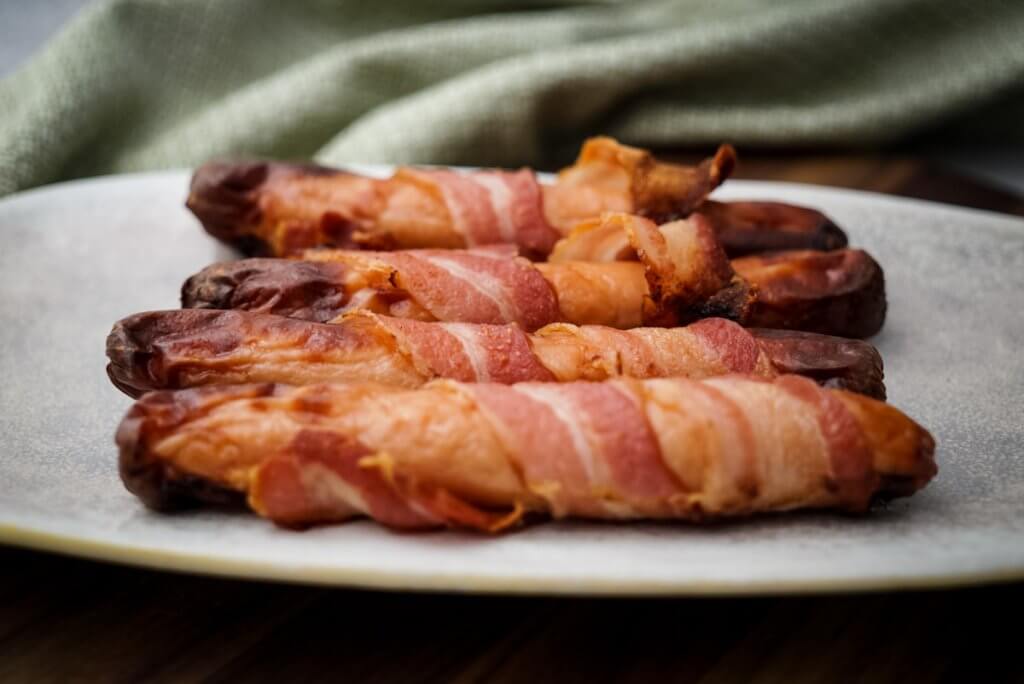 Why you will love this recipe
Air fryers allow you to cook foods quickly and evenly without the added fat or grease associated with traditional frying methods.
The result is a crispy, juicy bacon-wrapped hot dog with all the flavor without any guilt.
These bacon-wrapped hot dogs are incredibly versatile; they can be served as-is, topped with your favorite condiments, or even stuffed with cheese and other ingredients for an extra flavorful twist.
Recipe Ingredients
You will need the following ingredients to make these air fryer bacon-wrapped hot dogs:
Hot dog sausages
Thinly sliced bacon: I prefer smoked bacon, but you can choose whichever bacon has your preference
Hot dog buns if you want to use these in hot dogs. But they are delicious, paired with some vegetables as a quick lunch and a healthier version of traditional hot dogs.
How to make air fryer bacon wrapped hot dogs: step by step
A recipe can't be easier than this one. Take a strip of bacon and wrap the bacon around the hot dog sausage. Place your bacon-wrapped sausages in the air fryer basket in a single layer. Grill 8-10 minutes in the air fryer at 380°F (190°C). Longer baking will result in crispier bacon. Serve these hot dogs with your favorite toppings.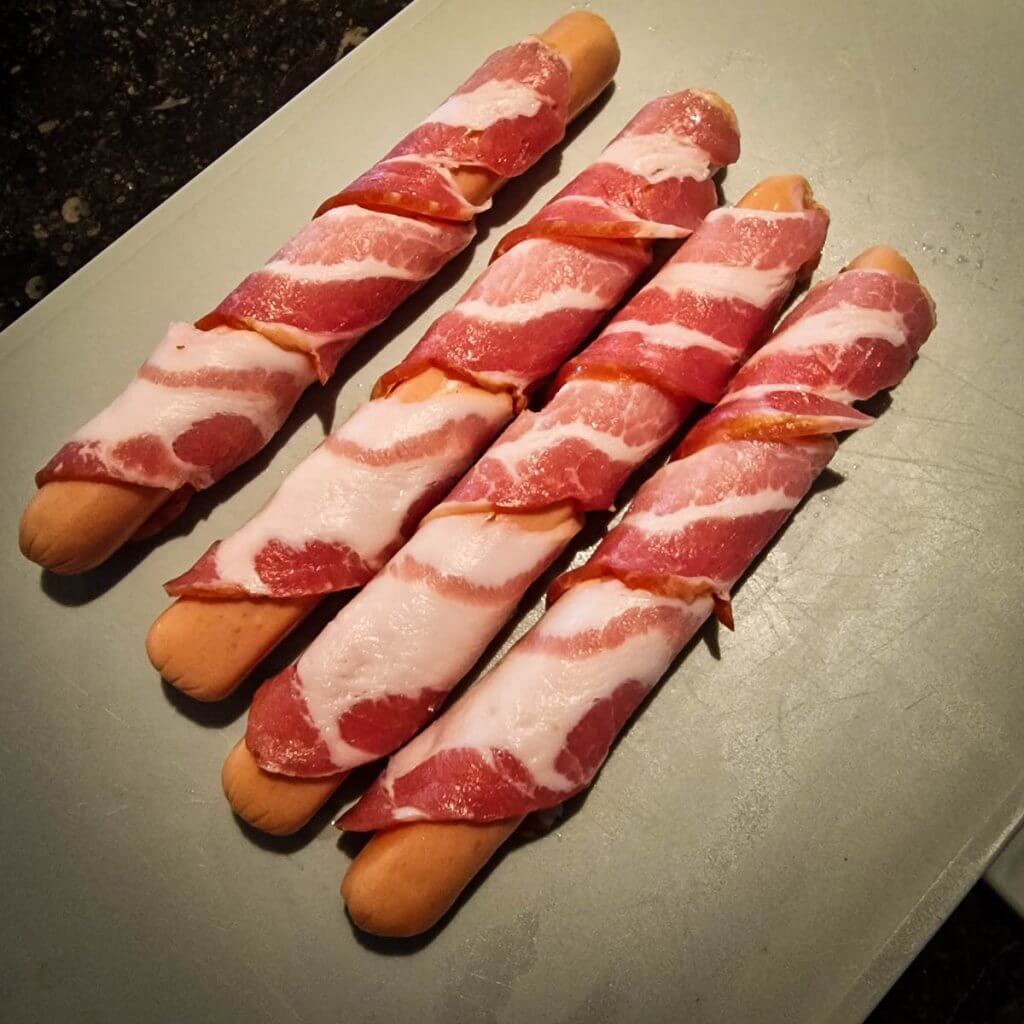 Recipe Tips & Tricks
There are multiple tips and tricks that you can apply to turn this simple recipe into a success:
If you want to avoid crispy hot dog edges, then make sure to wrap the bacon around each hot dog all the way to the tips. Depending on the size of the hot dogs, you might want to wrap 2 slices of bacon on one sausage.
Bacon shrinks while being cooked. You can use toothpicks to pin the bacon onto the hot dog. Make sure to remove the toothpicks before eating!
Avoid overlapping the bacon when wrapping it around your hot dog. Having a single layer of bacon will have the crispiest result.
Additions & Substitutions
Cut the hot dog sausage in 2 lengthwise, put cheese in between the two halves, close them again, and then wrap with bacon.
Bacon: try different types of bacon to see which ones you like the most.
Frequently Asked Questions
How long do you air fry bacon-wrapped hot dogs?
Depending on the size of the hot dog and how crispy you want the bacon, you should be able to air fry it in around 8-10 minutes. If you are wanting a more well done hot dog that is extra crispy, then you can increase the time to 12-15 minutes. It's important to keep an eye on your hot dog while it is cooking, as overcooking can cause it to dry out and become tough.
Can you air fry bacon wrapped hot dogs?
Yes, it's perfectly possible to air fry them, learn how to with this bacon-wrapped hot dogs recipe!
What sides go with bacon-wrapped hot dogs?
A bacon wrapped hot dog is the perfect combination of salty, smoky, and savory flavors. When it comes to sides to pair with this delicious dish, you have a lot of options. A classic side for a bacon wrapped hot dog is coleslaw, which adds a cool and crunchy contrast to the hot and smoky flavors of the hot dog. Another great option is chips or french fries for an extra crunchy texture. For those looking for something more traditional, grilled onions, sauerkraut, or chili all make great sides for bacon wrapped hot dogs. Finally, if you're feeling adventurous, you can even try pairing your bacon wrapped hot dog with macaroni and cheese or mashed potatoes! No matter what side dishes you choose to serve alongside your bacon wrapped hot dogs, they are sure to be a hit at your next cookout or gathering!
Other air fryer recipes that you will love